Welcome to Food & Nutrition Services!
Welcome to the Food & Nutrition Services website for all Alachua County Public Schools Cafes.
Mission Statement:
Empowering students through healthy meals.
We provide students with access to a variety of affordable and appealing foods that meet the health and nutrition needs of students. Good nutrition and learning go hand in hand. Food and beverages sold or served at all schools meet the nutrition recommendations of the USDA School Meals Guidelines.
Free Breakfast & Lunch For All Students At 27 Alachua County Public Schools
Food & Nutrition Services will be participating in the Community Eligibility Provision (CEP) program at 27 schools for the 2015-2016 school year. Students attending the schools listed below will not have to fill out free and reduced application and can eat free regardless of income:
| | | | | |
| --- | --- | --- | --- | --- |
| A. Q. Jones | Caring and Sharing | Idylwild Elementary | Metcalfe Elementary | Terwilliger Elementary |
| Alachua Elementary | Early Learning Academy at Duval | Irby Elementary | Newberry Elementary | Westwood Middle |
| AMI Kids | Fearnside Center | Lake Forest Elementary | Norton Elementary | Williams Elementary |
| Archer Elementary | Foster Elementary | Littlewood Elementary | Rawlings Elementary | |
| Bishop Middle | Genesis Charter | Lincoln Middle | Shell Elementary | |
| Boulware Charter | Hawthorne Mid./High | Mebane Middle | Sidney Lanier | |
---
Our students in Alachua County Public Schools have a voice and are playing a big role in helping us not only select the freshest and most nutritious foods for our menus, but they are also testing and making sure it tastes great! We want to thank our student focus groups for helping us to be the best we can be.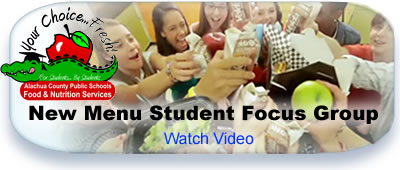 ---

____________________________________________________________________
Click logo to learn more

Click logo to learn more

_____________________________________________________________________
The Food & Nutrition Services Department is made up of a team of food and nutrition professionals that are dedicated to students' health, well being and their ability to learn. We support learning by promoting healthy habits for lifelong nutrition and fitness practices. Click below to learn more about us.

___________________________________________________________________

____________________________________________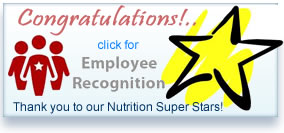 Managers and Administrators click here - YCmenu.Com
Attention Teachers: Click here for Camp Crystal Excel Worksheets
Having a Party? Click here for Super Cool Food Ideas
Rewarding Students? Click here for more Awesome Ideas